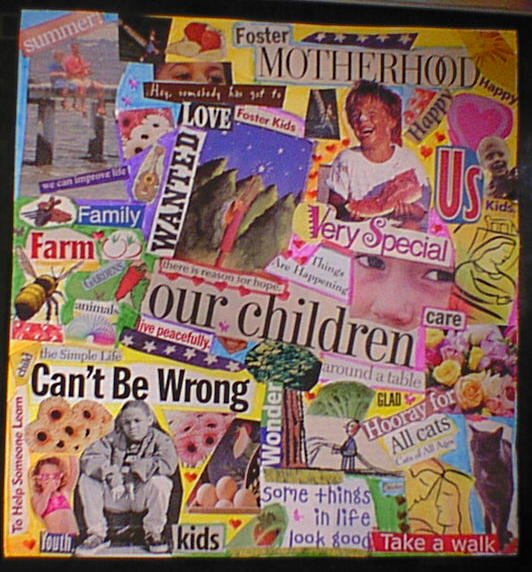 Mickey and Linda have been providing loving family care for children since 1993, and three years ago we were licensed as Treatment Foster Care (TFC) parents. It is our calling, and we have dedicated our lives to providing a happy, healthy, wonderful life for the children that come into our care.

Contrary to some of the negative stereotypes you may have heard about fostering, we are pleased to report that our children are FLOURISHING in foster care.

Below are pictures of some of the children that have been a part of our lives (some for only a short time). If you are one of the children pictured below, please contact us - we would love to hear from you and find out how you are doing. If you are interested in becoming a foster parent, or in learning more about TFC, please contact us. If you are already a foster parent or a foster child, we would like to hear from you also to share our stories and support.

IF YOU ARE A CHILD IN A BAD SITUATION, IF YOU ARE BEING SEXUALLY, PHYSICALLY OR
EMOTIONALLY ABUSED OR NEGLECTED, CONTACT US IMMEDIATELY... WE CAN HELP.


K. holds a two-week old lamb named Patricio. K. loves animals and enjoyed helping out around the farm and volunteering at the local animal shelter.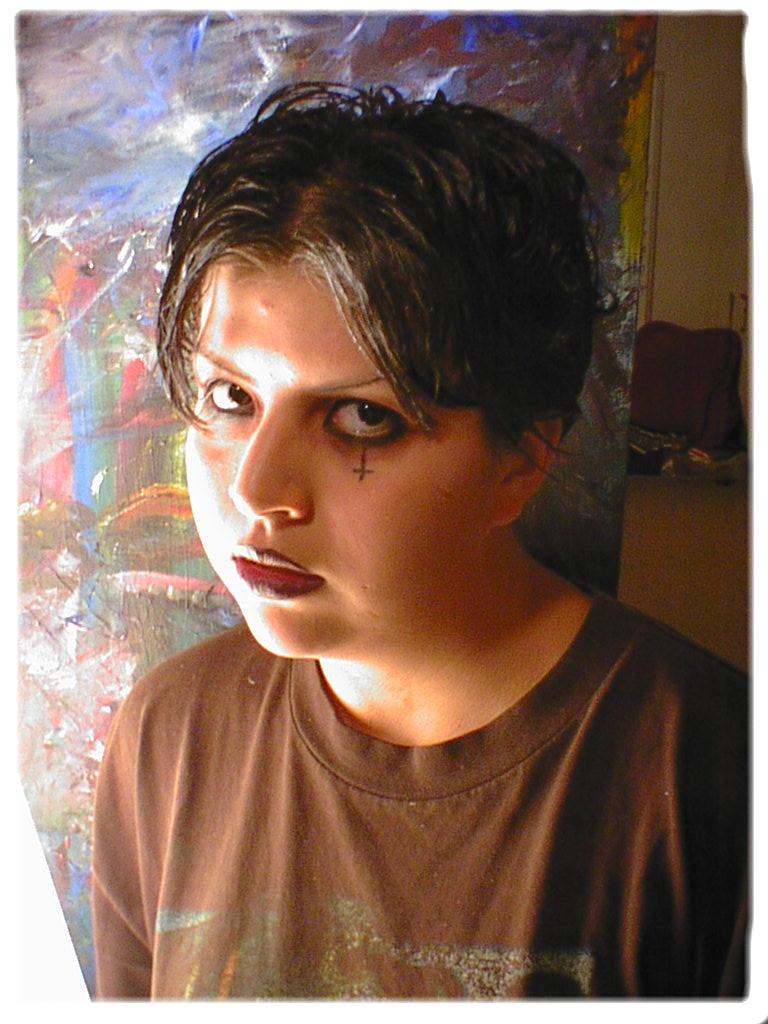 J. is a creative teenager seen here in front of an oil painting she made while living here. She also took a four-week art class during the summer.
L & T get along with each other better than any sister and brother we know. After living apart, they were reunited when they both came to live at Montecito Farm in 1999-2000.
T & L with their younger brother, R., who came to visit for about a week to share the Thanksgiving holiday with our family at Montecito Farm.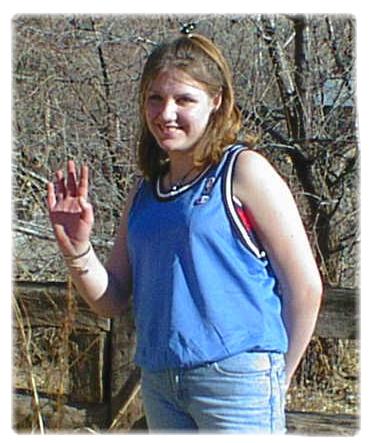 L. waving goodbye. After her five-month stay at Montecito Farm, L. went to live with her dad and step-mom. Three months later, her brother T. also left here to join them.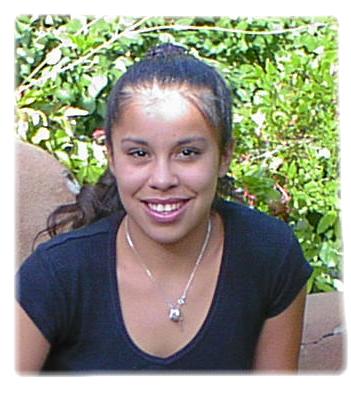 S. is an attractive young lady who lived with us for about two months. She loves to cook and hopes to own her own restaurant. We wish her the best of luck and hope to enjoy her cooking again someday.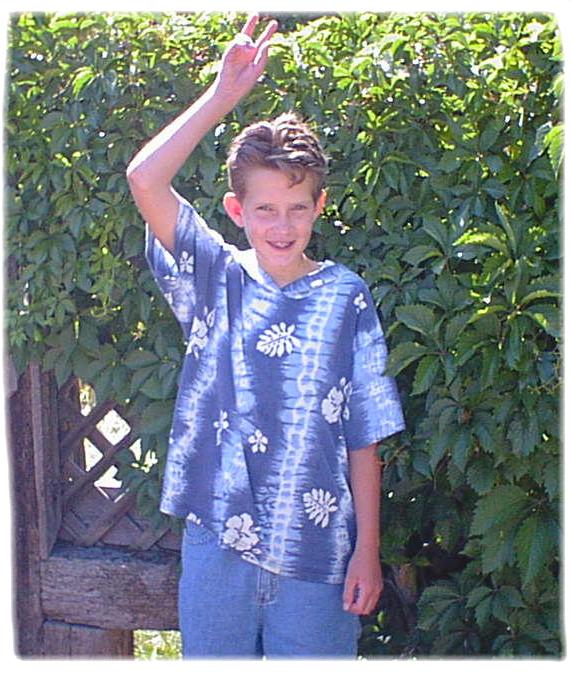 K. waves goodbye. After seven months at Montecito Farm, K returned to live with his parents and brother and sister.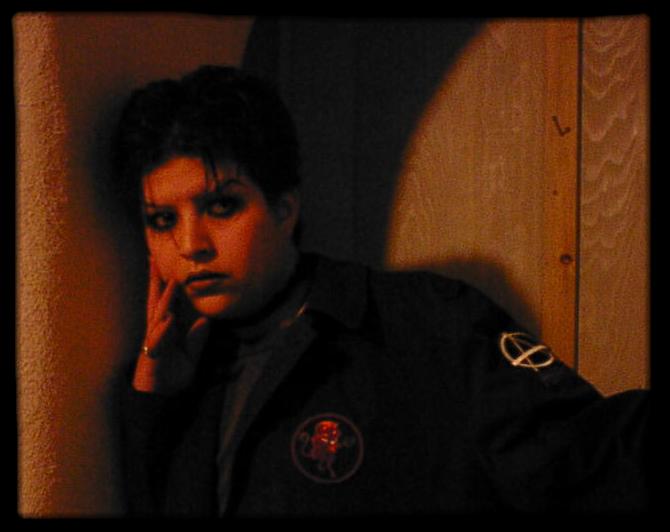 J. sports her black trenchcoat in the doorway of her bedroom. J. isn't all darkness and gloom, though. The leader of two rafting trips she went on told us that J "rocks!" Between art classes and rafting trips, she had a part-time job at a local bed and breakfast.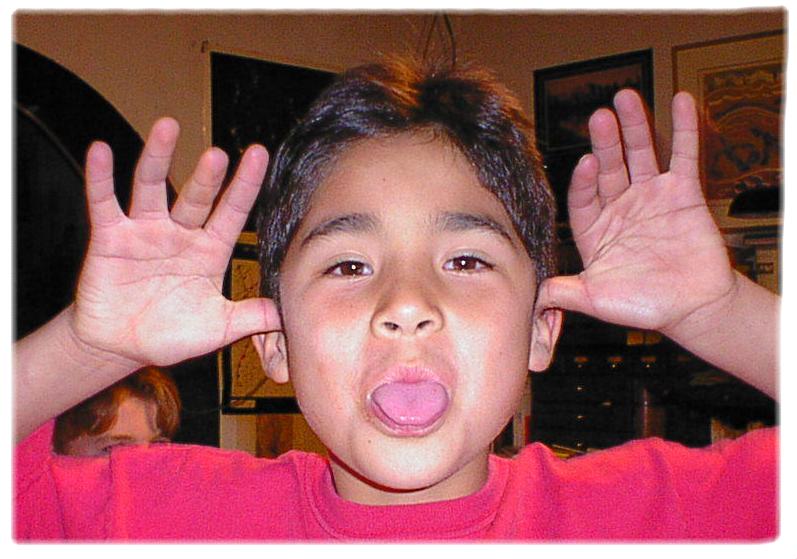 B. has stayed with us for only one weekend, but he was so much fun we wanted to include his picture here. He lives with another TFC family in Northern NM.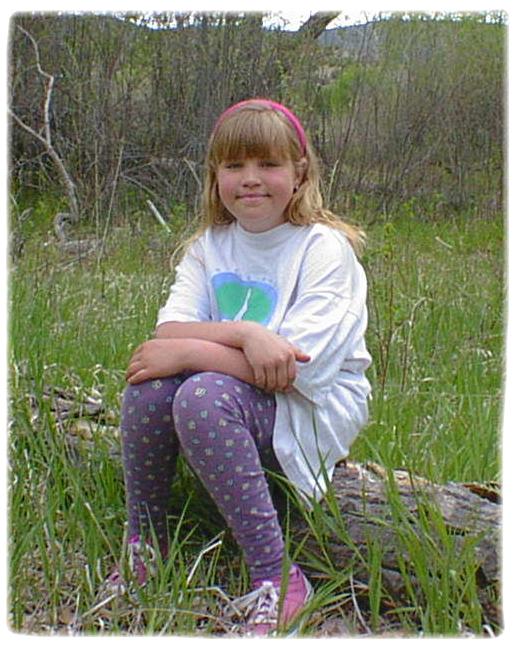 R. is a very bright young girl who stayed with us about a week just before her 10th birthday. She is now living with her adoptive parents in California.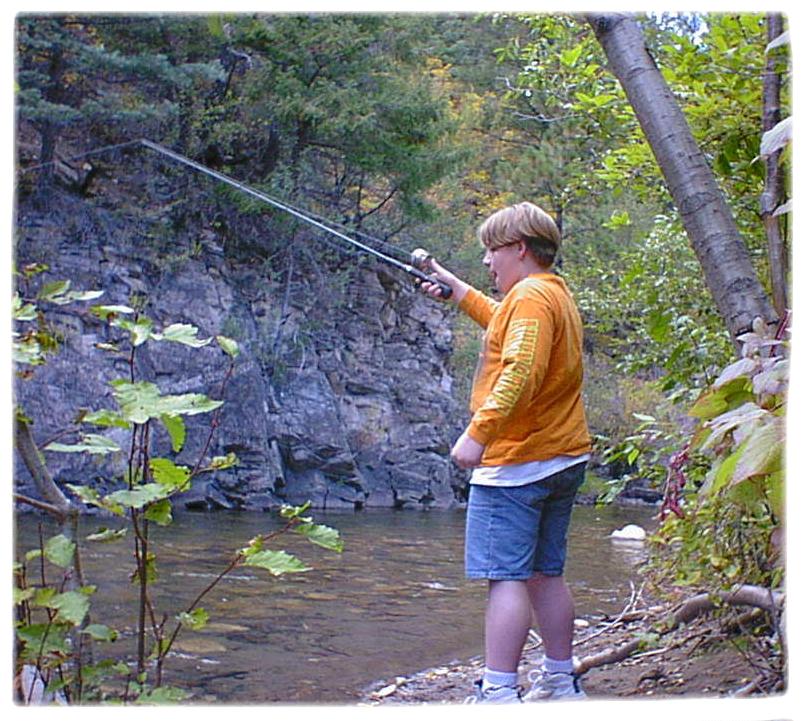 T. loved to go on fishing and camping trips. Here he is trying to catch a fish from the Rio Pueblo.
C. is a handsome young boy who stayed at Montecito Farm for about four months before moving to Albuquerque to be closer to his dad. Here he is enjoying the purple wildflowers that grow along the Rio Embudo.
Thanks for visiting. Click here to return to the top of this page.